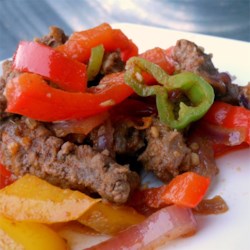 BEEF TIPS with PEPPERS and ONIONS
Carrabba's Italian Grill Restaurant Recipe
2 red bell peppers, seeded and cut into 16 (1 1/2 inch) squares
1 large red onion, separated into layers and cut into 16 (1 1/2 inch) squares
2 tablespoons extra virgin olive oil
2 pounds beef tenderloin, trimmed and cut into 1 1/2 inch cubes
2 teaspoons Grill Seasoning
Preheat the oven to 350 degrees. Place the bell pepper and red onion squares in a roasting pan and toss with 1 tablespoon of the oil. Cover the pan tightly with aluminum foil. Bake until the vegetables are tender crisp, about 15 minutes. Uncover and let cool.
Prepare an outdoor grill for direct cooking with high heat.
Have ready 8 metal skewers. For each skewer, alternate 3 beef cubes with 2 bell pepper squares and 2 red onion squares. Brush with the remaining oil and season with the grill seasoning. Let stand at room temperature while the grill heats.
Brush the grill grates clean. Place the skewers on the grill. Cook, with the lid closed as much as possible, turning after the first 3 minutes, until the meat is browned, about 6 minutes for medium rare. Remove from the grill and let stand for 3 minutes.