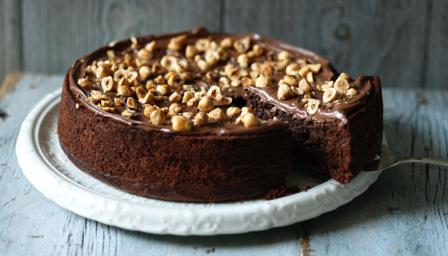 CHOCOLATE HAZELNUT CAKE
Carrabba's Restaurant Recipe
Serves 12
Syrup:
1/2 cup granulated sugar
1/2 cup water
6 tablespoons dark rum
Filling:
1 (13 oz.) jar Nutella
1 1/2 cups heavy cream
1 teaspoon vanilla
Cake:
6 eggs, separated
3/4 cup granulated sugar
1 tablespoon hot water
1 teaspoon vanilla
zest of 1 lemon
1/2 teaspoon baking powder
1/2 teaspoon salt
1 1/4 cups cake flour
Glaze:
2 tablespoons butter
12 ounces semisweet chocolate chips
1 cup heavy cream
To make the Syrup:
Combine the sugar and water in a small saucepan, bring to a boil and boil until the sugar is dissolved and the mixture is reduced by 1/4. Cool and stir in the rum. Set aside.
To prepare the Filling:
Preheat the oven to 350 degrees. In a large bowl, with an electric mixer, whip the egg yolks with 1/2 cup of the sugar. Add the water, vanilla, an lemon zest and beat until light yellow. Add the baking powder and salt and mix thoroughly. Sift in the flour and stir.
In a separate bowl, clean the beaters, whip the egg whites until soft peaks form. Whip the remaining 1/4 cup of sugar until stiff peaks form. Take one large spoonful of the egg whites and fold it into the egg yolk mixture thoroughly. Then add the rest of the egg whites, folding gently. Spread the batter evenly in the prepared 9 inch cake pan and bake for 35 minutes. Set upside down on a cooling rack and cool completely before removing from the pan. When the cake is cooled cut the cake into three 1/2 inch layers.
To Assemble:
Put one layer on the cake plate. Spread a thin layer of syrup evenly over the cake. Then spread half of the filling mixture over the cake. Let cool for 10 minutes. Add the second layer and repeat the process. Now add the third layer of cake to the top and spread with the final amount of syrup. Cover with plastic and put in the refrigerator for 2 to 4 hours.
To make the Glaze:
Put the butter and chocolate in a double boiler. Melt the butter and chocolate together until you have a smooth mixture. Slowly stir in the cream keeping the mixture smooth.
To Serve:
Take the cake from the refrigerator and remove the plastic. Using a spatula smooth the glaze evenly around the sides of the cake and then spread over the top of the cake. Let the glaze set before serving. Serve with a few roasted hazelnuts on top and a dollop of whipped cream.