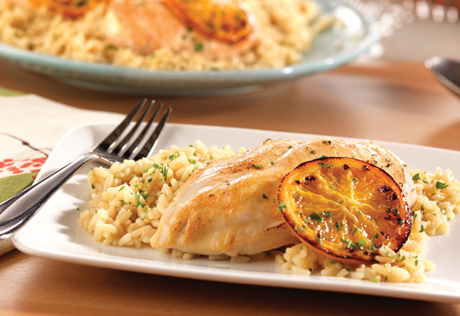 Citrus Chicken
Carrabba's Restaurant Recipe
Serves 4-6
1 whole chicken, cut into 8 pieces
kosher salt and freshly ground black pepper to taste
1 tablespoon chopped fresh rosemary
2 cloves garlic, thinly sliced
2 tablespoons olive oil
2 bay leaves
5 oranges
1 lemon
To Prepare:
Season the chicken with salt, pepper, and rosemary. Zest 2 oranges and the lemon. Juice the oranges and the seeds. Set zest and juice aside until needed.
In a large skillet over medium heat, add the chicken, skin-side down, making sure not to overcrowd.
When the skin-side is browned, about 5 to 6 minutes, turn and cook the other side, for 3 to 4 minutes. Add the garlic and bay leaves, and cook for 1 minute. Add the orange and lemon zest and juice. Cover and continue to cook another 15 minutes or until chicken is cooked through.
To Serve:
Discard the bay leaves and use a slotted spoon to transfer the chick to a warm platter. Pour the sauce over the chicken and serve.