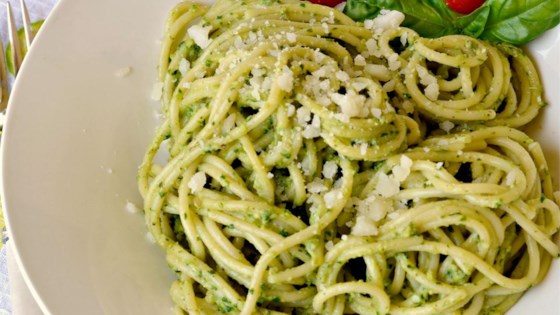 Pasta With Pesto
Carrabba's Restaurant Recipe
Serves 4-6
1 cup basil leaves
6 large cloves garlic, peeled
1 cup balanced almonds, roughly chopped
6 very ripe, Roma tomatoes, peeled, seeded and chopped medium
1/2 cup extra-virgin olive oil
kosher salt and freshly ground black pepper
1 pound imported Italian dried linguine, or spaghetti
To Prepare:
In a food processor,blend together the basil and the garlic, then add the almonds and blend to a rough chop. Add the tomatoes and olive oil and puree. Season with salt and pepper to taste, then blend again.
Bring 6 quarts of water to a boil. Add 3 tablespoons kosher salt. Add the pasta and cook until al dente. Drain the pasta, saving some of the water to thin the pesto sauce. Mix enough of the water with the pesto sauce to get the desired consistency.
To Serve:
Spread about 1/2 of the presto sauce on the bottom of a warm serving platter, and transfer the pasta on top, then pour the remaining pesto on the pasta and toss, then serve immediately.